Executive Recruitment Firm
Case Study
Overview
Client
Executive recruitment firm that specializes in helping US companies hire Brazil's top C-level candidates to lead local operations in Brazil.
Vision
Operate using an elegant, seamless database of Brazilian executives between 25-40 years old who have studied and/or worked in the US.
Primary Goals
Increase placement and billing margins by at least 50%
Streamline and digitize internal processes in order to take on more work and hire more people
Position company as the most technologically advanced executive search firm in the industry
problems to solve
Processes are too analog. Every step is very manual (from keeping track of candidate details to running executive searches for clients).
Onboarding new internal hires is extremely difficult, because current "system" is mostly personal memory and individual ways of operating, with no standard process.
Not enough credibility in the tech space. Tech contacts have noted too much internal risk to work with the firm, due to pressure from boards of directors to recruit from more well-known, established recruitment firms.
Executive recruitment is a crowded market. Need a strong differentiator to stand out from the bigger firms.
Project Launch
client interview about overall business and industry
I always begin projects with an intro call or two to get a sense of the client, how they talk about their own business, how they talk about their industry, what they're hoping to accomplish, what success looks like, how they'll know they're succeeding, etc. Even if we don't get the chance to meet in person, this gives us the opportunity to establish rapport and set the stage for open communication throughout the project. After that, I follow up with one of several small surveys to get some important items written down that we can refer back to throughout the project. Things like: company background, the client's understanding of the project outline, what's important to the client on a macro and micro level, etc. Below are some insights gleaned from this project's initial Q&As.
+ Most important thoughts for clients to have:
"I trust them."
"How refreshing – honest, best listeners I have ever met, resourceful, creative people."
"Not the same old headhunters – they really understood what I wanted to hire and I know they will execute."
"Just incredible, remarkable service and dedication."
"Truly different, high-touch."
+ Target Market:
US companies and investors seeking to hire under 40 Brazilians who will lead operations in Brazil (CEO/CFO/CHRO/COO/Private Equity and Investment Bankers)
+ Differentiators:
American founder, fluent Portuguese, culturally sensitive, permanent resident
Keen ability to identify who will fit into US work cultures
No local American with same C-level recruiting experience
15 years of successful placements for multinational orgs
BG in Finance, Accounting & Tech (CPA, IPOs, M&A, US GAAP) — understand candidates' technical competence
+ Candidate Pool:
Impeccable English, native Portuguese language skills
Brazilians who understand and thrive in US work culture
Global and cultured, worked outside Brazil
On time, responsive, like to see results, create own success
95% have Harvard, Stanford, Columbia, or Kellogg MBAs
+ Company Goals:
I want to be the best example of how to live life for my son. Moved to foreign country with nothing and doing well.
Exceptional customer experience. Bureaucratic, complex culture that seems open due to Carnaval, but it's very conservative, slow to change, and hard to gain trust.
High-end technology. To be a great recruiter, you have to manage data well. Most have outstanding people skills and EQ, but lack simple org skills.
Clean, efficient process for filtering and organizing profiles. Many firms don't invest in top-end database so their ability to deliver results to clients suffers over time.
To have global mark of Russell Reynolds, Spencer Stuart, and Egon Zehnder, but with local presence of CristKolder.
+ Competitors:
Russell Reynolds, Spencer Stuart, Egon Zehnder, CristKolder
+ Brand (Perception, Personification, Attributes):
Describe your brand if it were a person: Class, High-Tech, Modern, Sleek, Edgy — but like your cool friend in London not the dork in his basement in San Jose
Feelings to impart: Optimism, Energy, Wisdom, Wealth
"Clean, contemporary, instills trust, and exudes confidence."
"More techy than traditional. Next generation of recruiting is going to reflect ongoing wave of tech advancement."
Client Interview
more specific client interview questions about how they operate to identify key problems
Walk me through how you currently do candidate searches for clients —
How do you learn what a client is seeking in a candidate?
Of their list of criteria, how do you prioritize what's most important when filtering for and providing a list of candidates?
How do you search your candidate pool (Do you have everyone's info in a spreadsheet? Do you have to go through a stack of resumes every time? How do you categorize?)?
How do you rank the list you send to a client? Or do you just give the whole list and talk through each candidate? If the latter, why not rank?
How do you physically deliver the list (e.g. email, in person, etc)?
Do you highlight key points about each candidate, or leave that discovery to the client?
How do you mark in your system that a client wants to set up an interview?
How do you mark in your system that a client wants to hire a candidate?
How do you mark in your system that a client has hired a candidate?
If a client changes the criteria, how do you mark candidates as "already sent" so you don't accidentally send them a duplicate?
How do you note that candidates' resumes have been sent?
How do you note that interviews have been scheduled or happened?
Besides obvious credentials, do you give input on criteria to seek out when helping to fill a role? (e.g. you've placed 100 CFOs - what other factors besides licenses, prior roles?)
How do you currently save notes on clients (e.g. McKinsey likes to hire Harvard grads, Bain likes to hire Stanford grads)?
How is your process different from other firms?
Walk me through ideal functionality within the product —
What criteria is pertinent to the placement process? Assuming level of education, school, GPA/Notas, location, previous job titles, skills, years of experience, industry, languages... what else?
What other criteria have you found clients like to see that perhaps isn't obvious? Or other skills candidates have that you wouldn't have immediately thought of (i.e. outliers)?
You mentioned how important comp history is; is comp a criterion when searching your candidate pool?
Will criteria differ from role to role dramatically enough that each role would have its own set? How?
Is it important to save and access prior searches for a particular client?
Company profiles —
Beyond basics like contacts, roles filled, candidates sent, etc., what other defining information is important to include?
How do you grow your client list?
How do you manage client relationships?
How do you follow up after you've placed a candidate?
What happens if a candidate doesn't work out?
How does your relationship work with multiple departments within companies?
Product Story
The product story is crucial to the process and the project's success. It's the north star that unites the team around a shared product vision, keeps everyone in the right direction, and maintains clarity of how the product should fit into users' lives. It identifies hurdles the user must overcome to get to the desired outcome. It answers "why". These are just a couple ways I worked through it:
Job Story Framework
When ______ (situation), I want to ______ (motivation/action), so I can ______ (outcome).
When I'm performing a candidate search for a client, I want to be able to use a streamlined, digital system for all Brazilian C-level candidates between 25-40, so I can seamlessly deliver options to clients and keep track of up-to-date candidate details and placements.
Pixar Narrative Framework:
Once upon a time there was ______. Every day ______. One day ______. Because of that, ______. Because of that, ______. Until finally ______.
Once upon a time there was an executive recruiter who helped US companies hire C-level Brazilians for their operations in Brazil. Every day he would help big companies find candidates for these positions in a really analog manner, by manually searching LinkedIn and stockpiles of resumes. One day he discovered a way to streamline internal processes by creating a digital database of candidates that his team could keep up to date. Because of that, he was able to dramatically improve the candidate intake and organization process. Because of that, he was able to take on more work, leverage more relationships, and hire more people. Because of that, he was able to position his company as the most technologically advanced executive search firm in the industry. Until finally he was able to increase placement and billing margins by 50% YoY.
A couple Early Sketches
(As I'm sure Tyler mentioned, I was down in Florida during Irma and had to evacuate — I'm in Austin as I'm putting this case study together, but my notebooks are down in FL. I found this one in a smaller Moleskine I had brought with me).
Round 1
(click through)
Using the "Detailed" Screen to flesh out some ideas.
Feedback
After explaining my thought process behind the initial drafts and discussing how the first option would scale the best for future iterations (it was the cleanest and allowed for the most flexibility in terms of candidate and company name lengths without having to trim), we proceeded with my recommendation. We discussed other use case scenarios in which the current layout might be better streamlined. For instance, making admin info more accessible by keeping it in the header vs its own tab (below). In the end, it felt like the admin content was unnecessarily competing with the main content (plus there was no scenario to justify a recruiter needing the SSN or CPF number in the header). We determined it wasn't necessary to show that info at all times, and thus, keeping it up top was just clutter. These kinds of conversations shifted the way my client thought about the product. They were better able to think through how they operate, what was objectively necessary vs nice to have, and what kind of functionality would be most helpful to streamline their processes.
Round 2
(click through)
Full set of Candidate Screens
Feedback
The majority of feedback I received from this point was mostly about content — i.e. how certain terms are referenced in the industry, reordering screens based on how they'd walk through a candidate's background with a client, adjusting the placement of elements based on that same sequence, etc. Also important to include was the ability to seamlessly view a candidate's CV from the Summary screen during a meeting. I solved this with the "View CV" button in the main content section, where it holds the same visual weight as the other elements but clearly is a clickable button. If no CV was uploaded, this button would read "Upload CV". As I worked through my client's feedback, I knew a number of items were still needed for the product as a whole:
Contextualization — How did the user get to that particular candidate's screen?
Navigation — Where do you go to perform a search? View saved searches? View contacts? View clients / companies?
Visual language — How will the design scale as more screens are built out? Where does it break and how do we fix?
Editing and adding content — How will a user edit and add content on each screen? Will each element have its own edit button or should there be a master button that puts the whole screen in edit mode?
Functionality — What else is missing? What questions haven't I asked? What scenarios haven't I thought of?
Round 3
(click through)
Full set of Candidate Screens. Changes of note:
Left Sidebar

Contextualized the dashboard by adding in the necessary navigation on the left-hand side

Top Bar

Added a link to go back to search results, since you'd only reach the candidate profile screen if you had been searching for a candidate
Added heading to indicate which client the search was being performed for and the job number. Both link to their corresponding screen (Client Contact Screen and Client Jobs Screen, respectively).

Candidate Profile Navigation

Simplified, in light of keeping the product clean and modern
Change of order

Summary

Core items more visually defined so they no longer felt like they were floating
CTAs added: "Send CV" to send to the client on the spot, "Save" to save profile to shortlist, and "View CV" to link to LinkedIn

Remaining Screens

Notes Screen added for team to make comments, add notes, review candidate history, etc.
Visual language taking shape throughout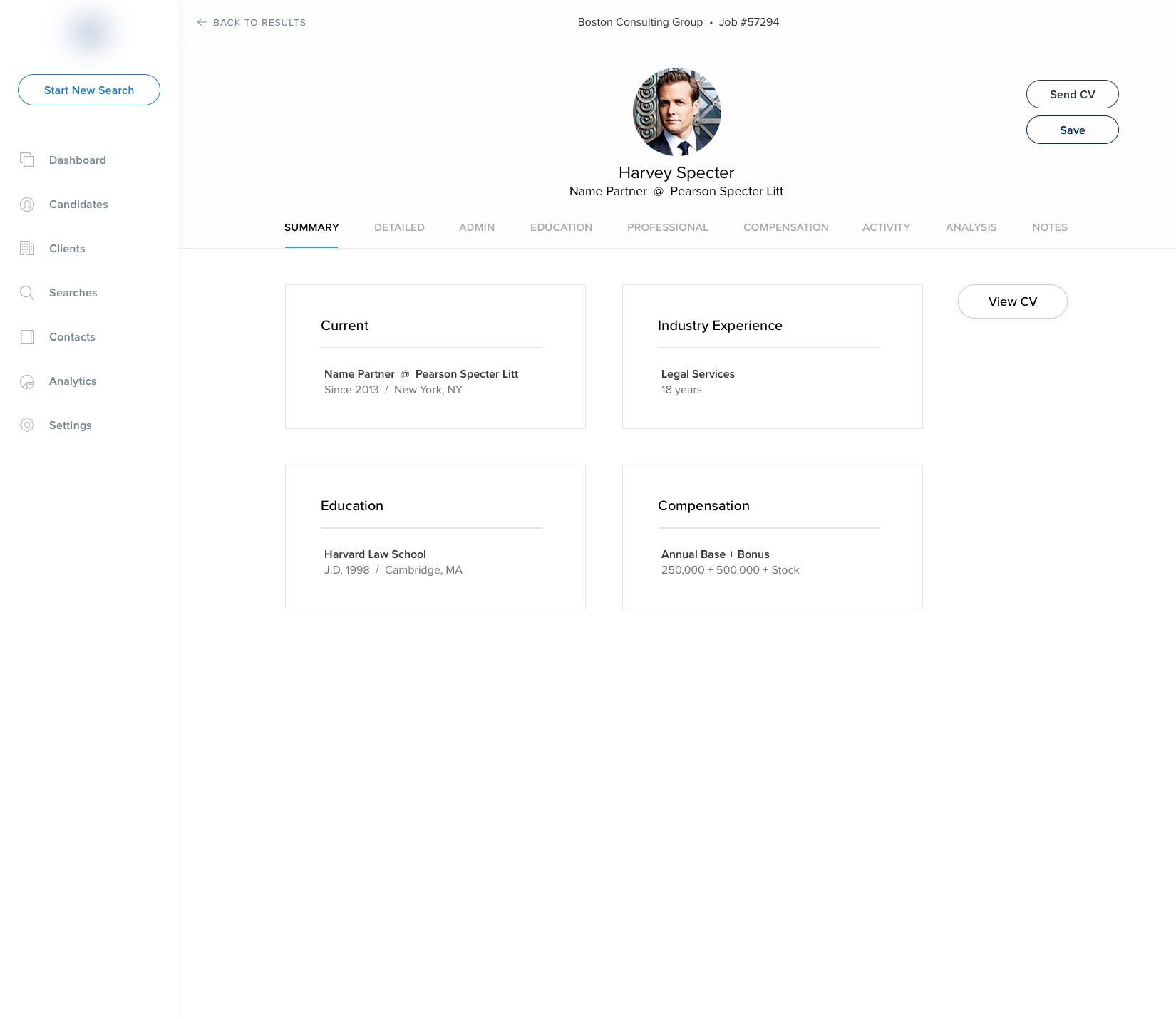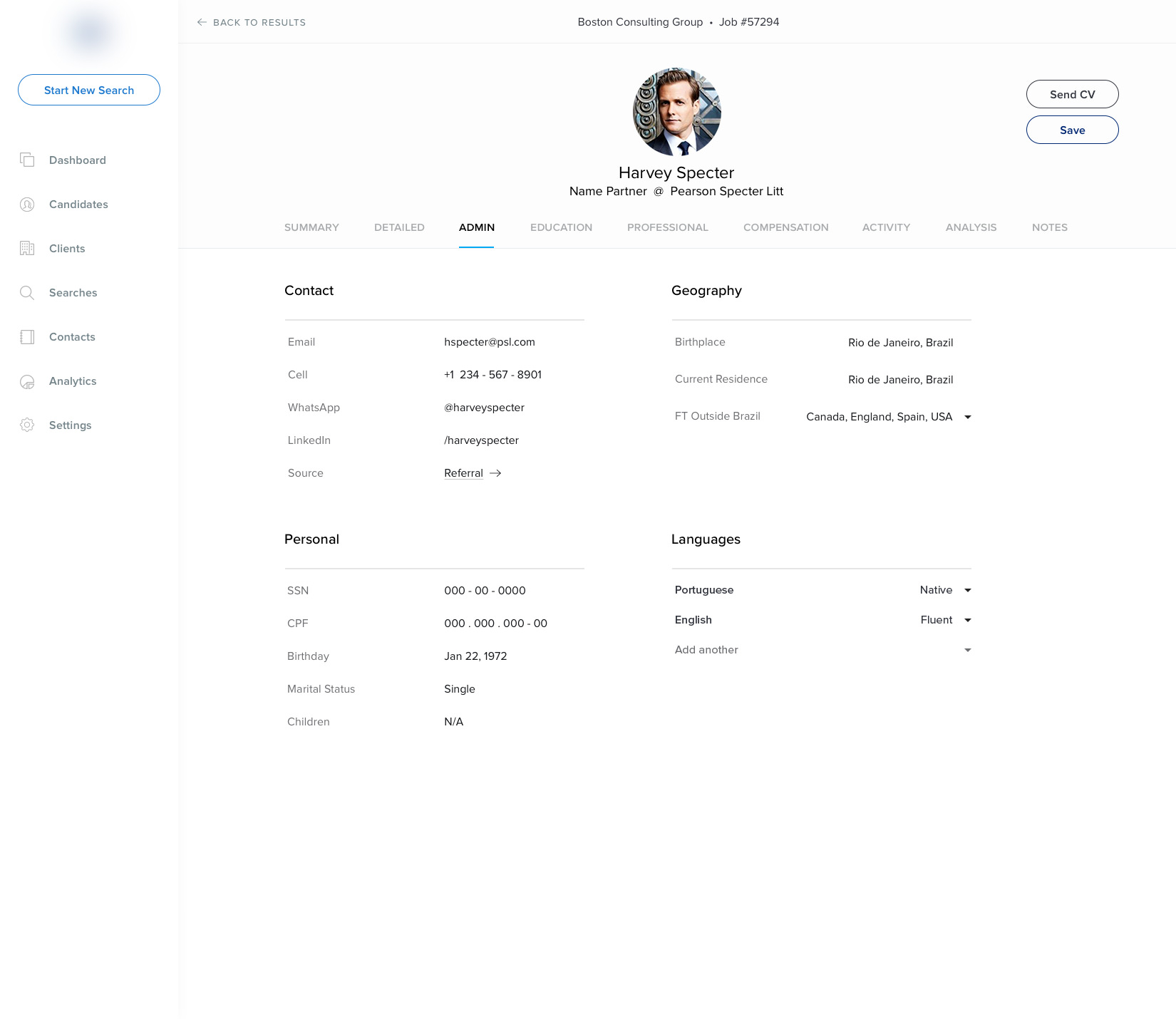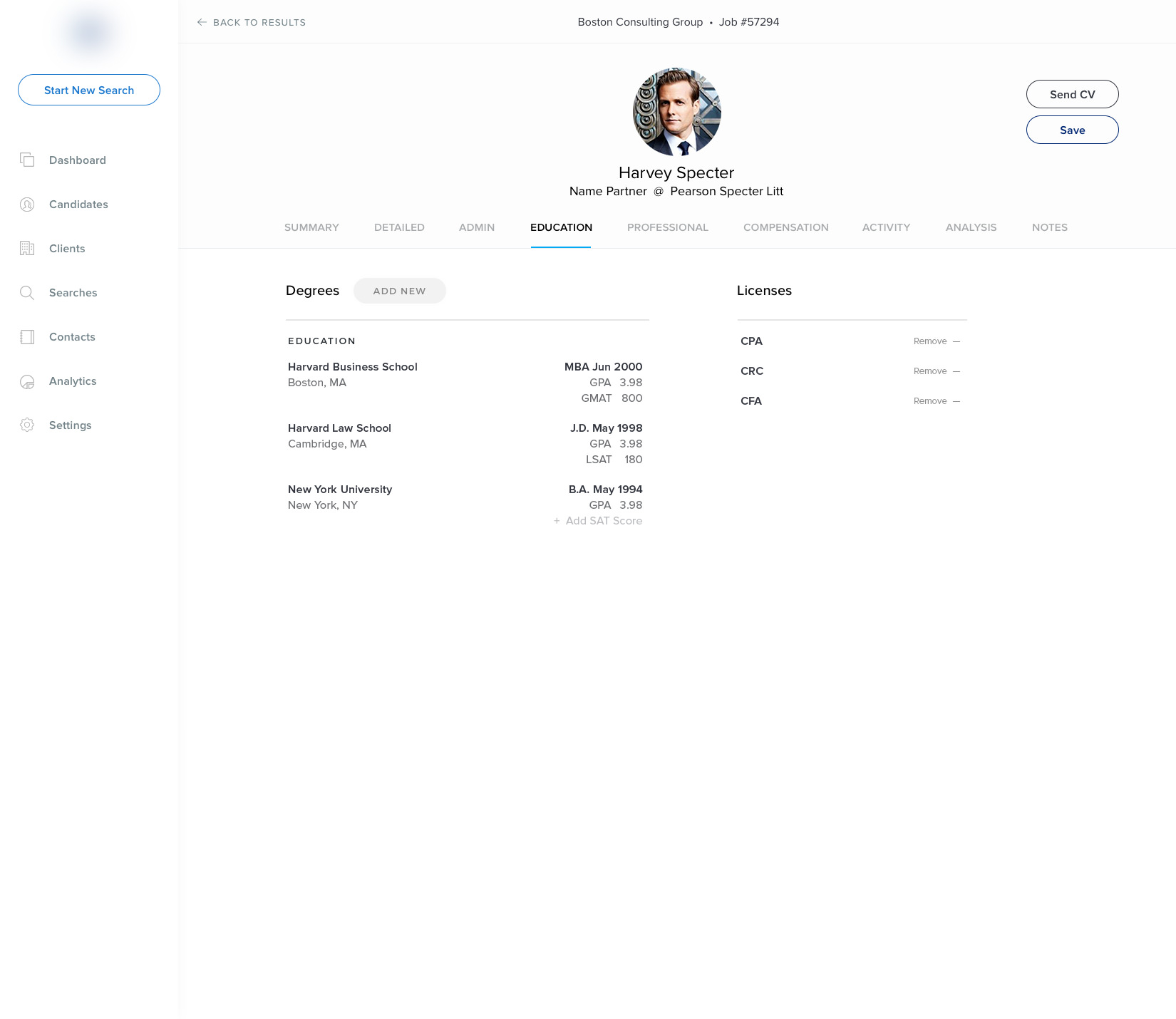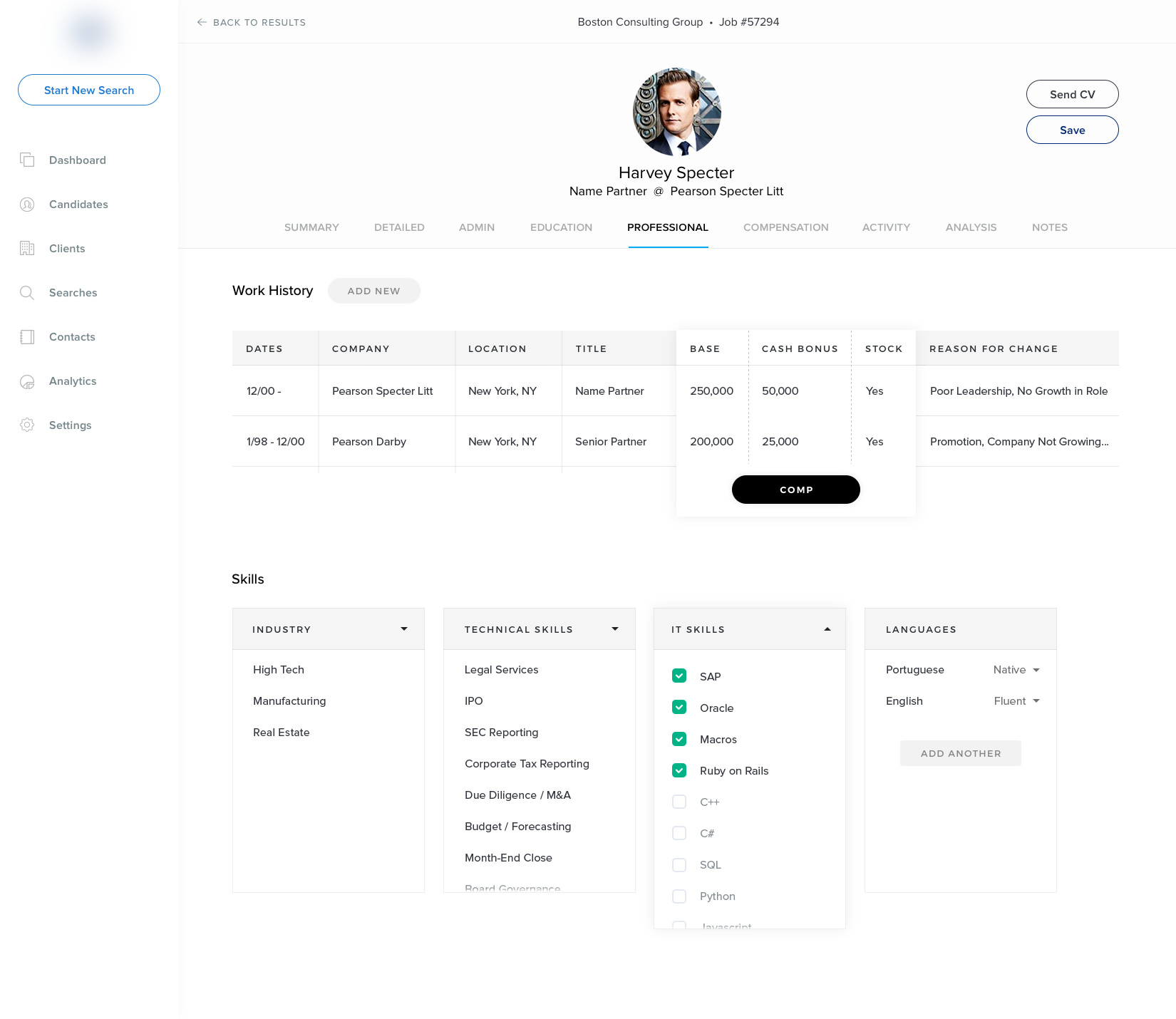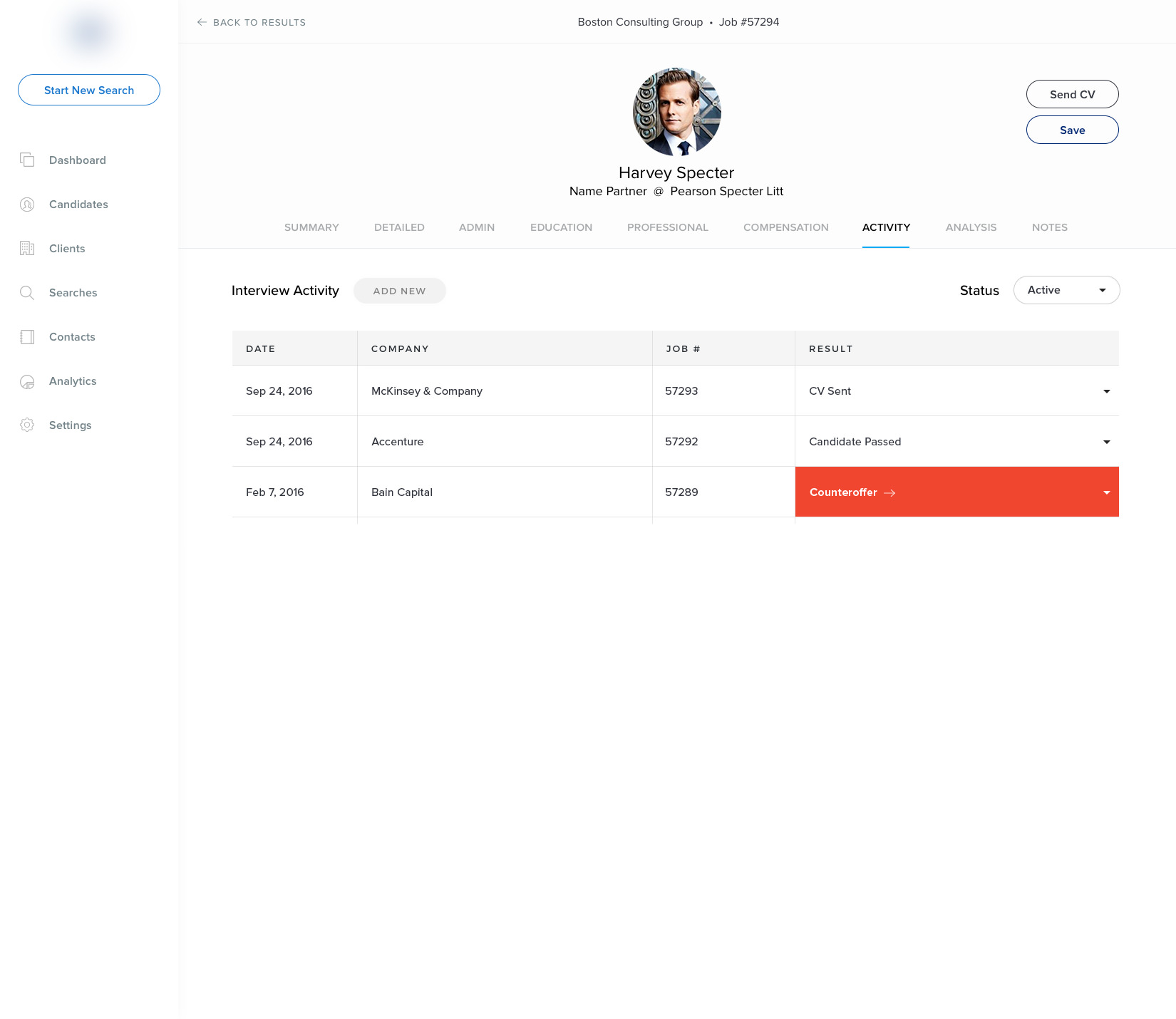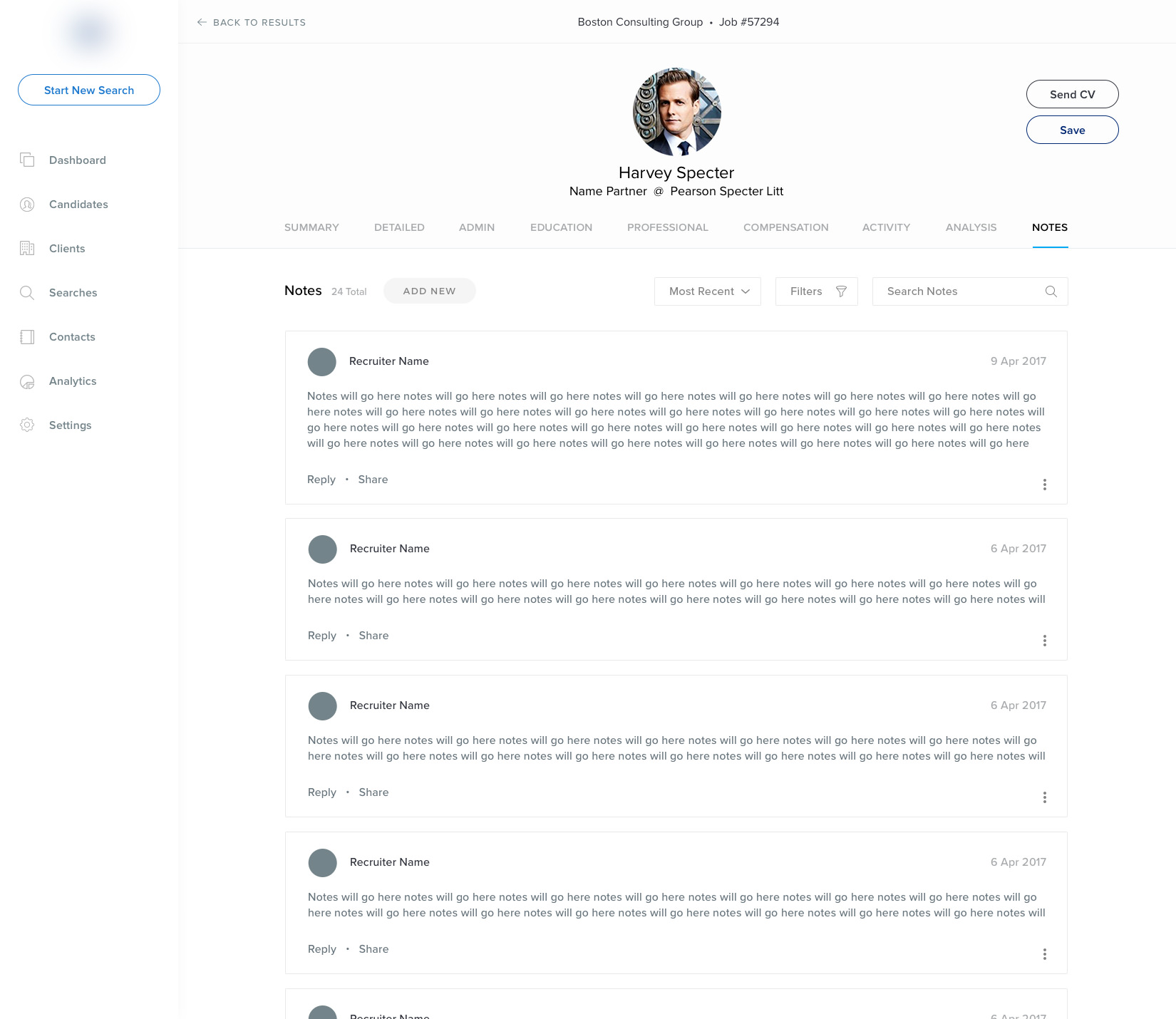 Feedback
Similar to the last feedback round, much of the feedback was centered around content. At this point, I also progressed to working through the Client Screens and the Filter Database Screens. See notes below.
Final Iterations
(click through)
Full set of Candidate Screens, select Client Screens and Filter Screens. Changes of note:
Left Sidebar

Simplified the navigation, based on client feedback
Changed CTA language to match industry terminology

Candidate Profile

CTAs simplified / reduced to button icons (send and save, respectively)
Per feedback on how clients think, created two separate CTAs for viewing CV as PDF and viewing LinkedIn profile

Visual Language

More fully fleshed out
Added "Last Updated" date to bottom right of screen on both Candidate and Client profile screens
 
candidate screens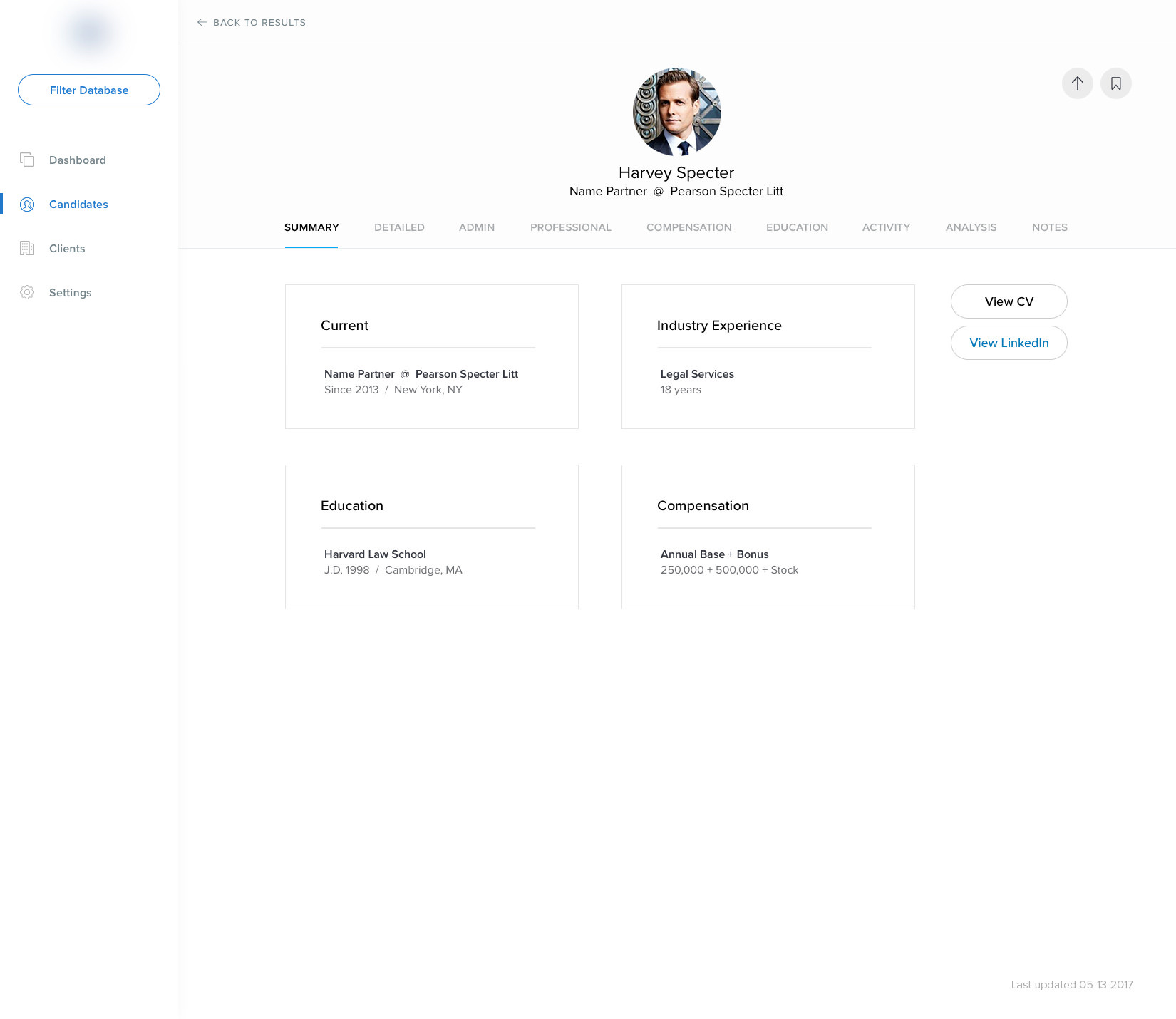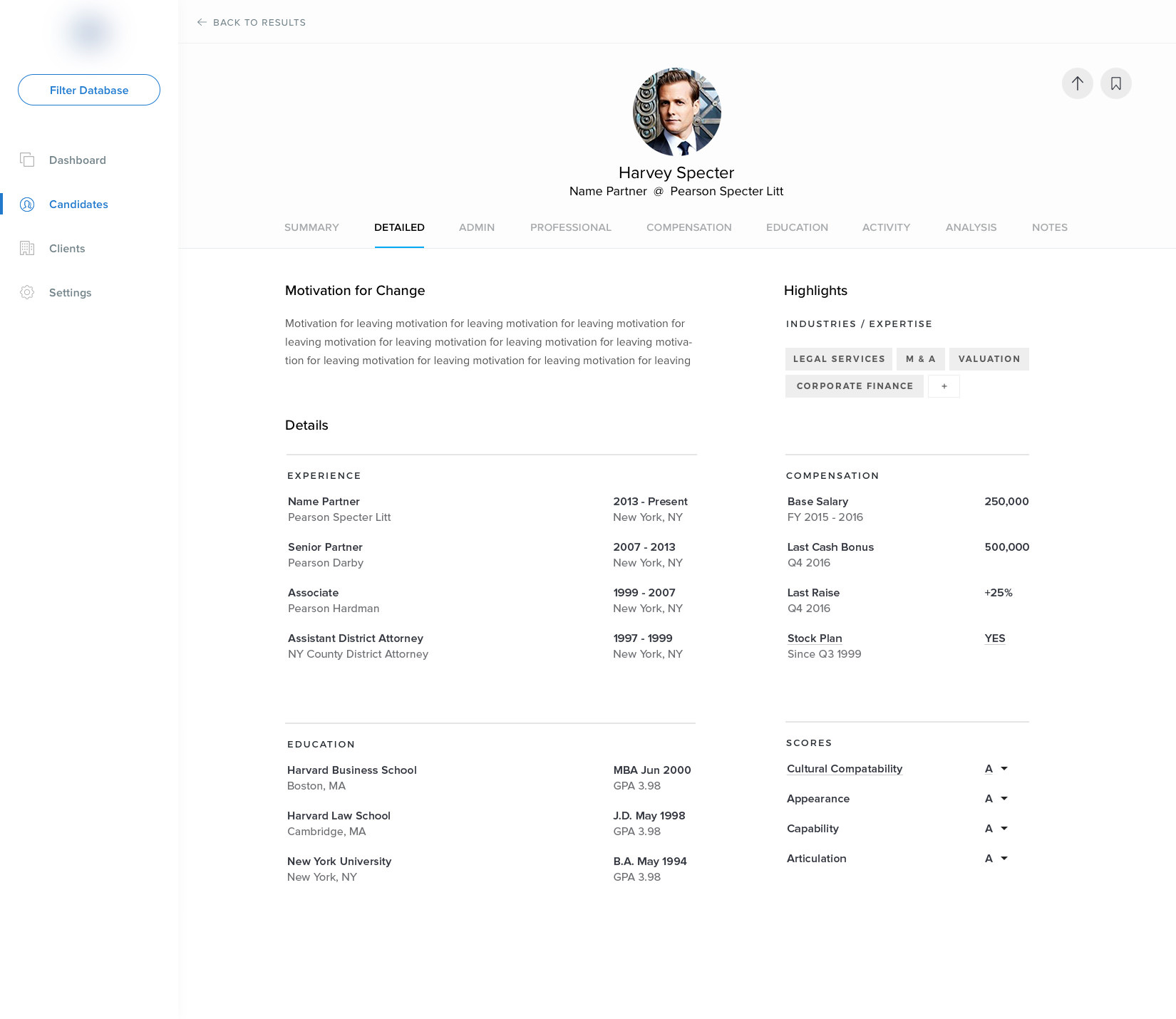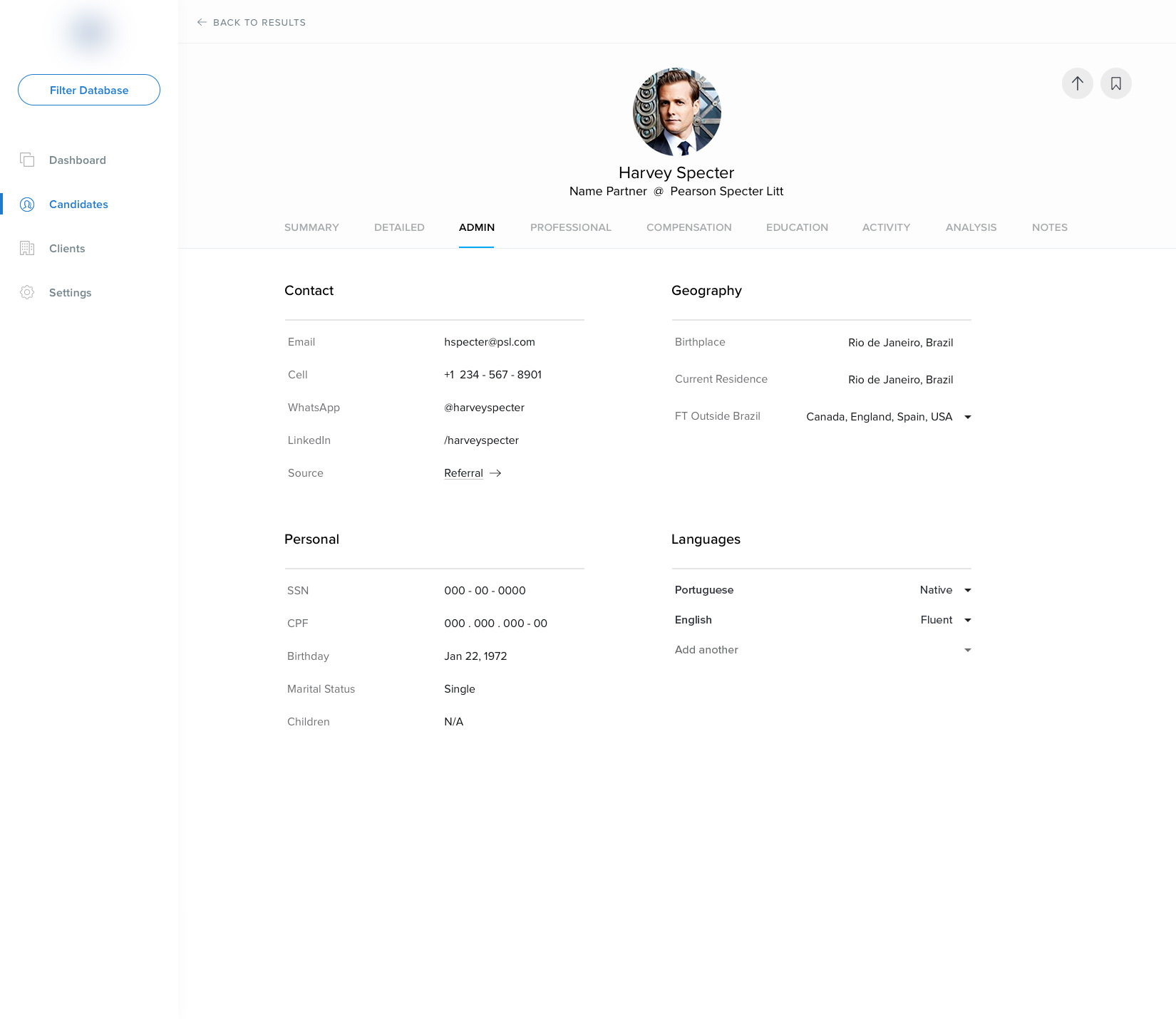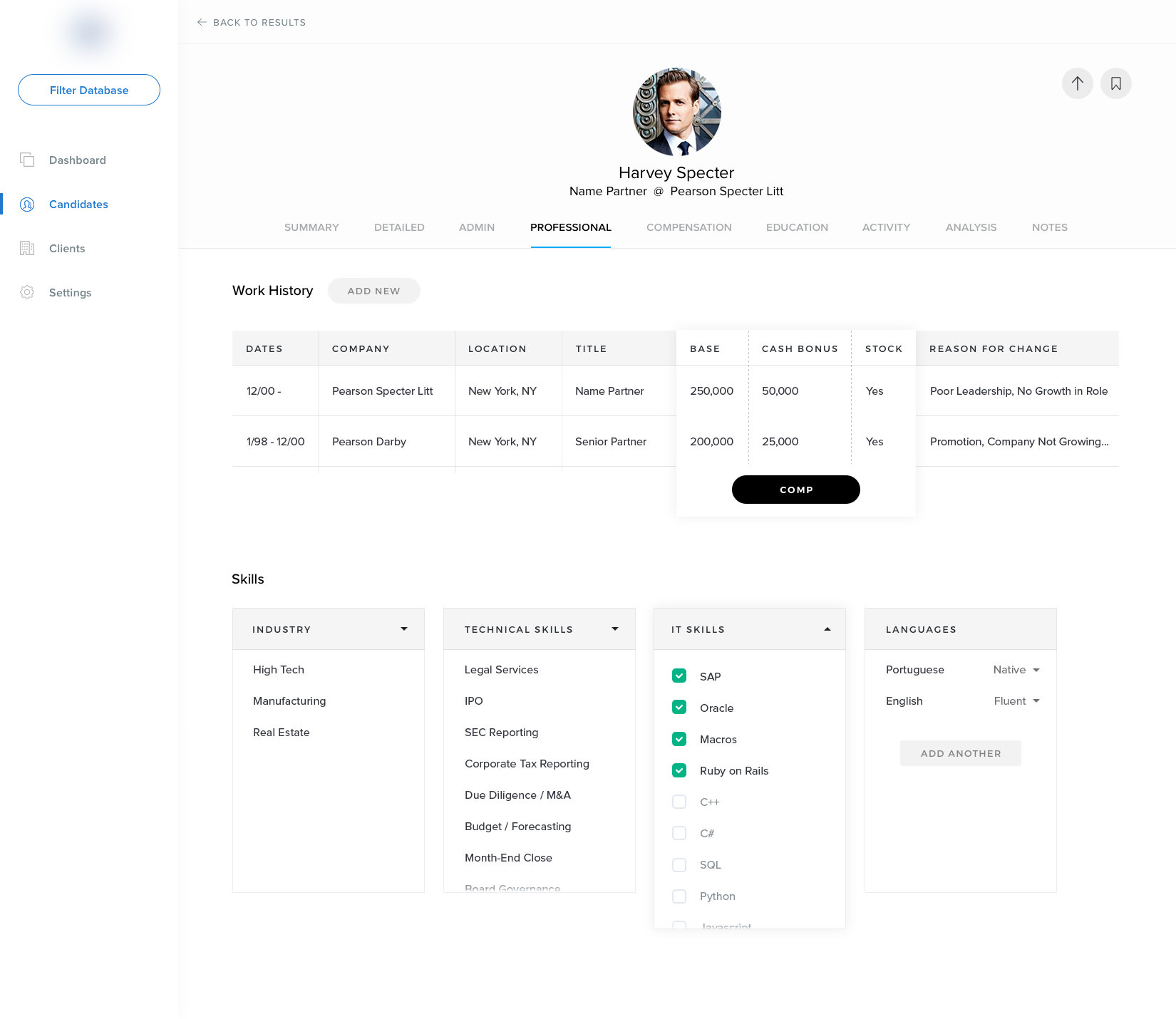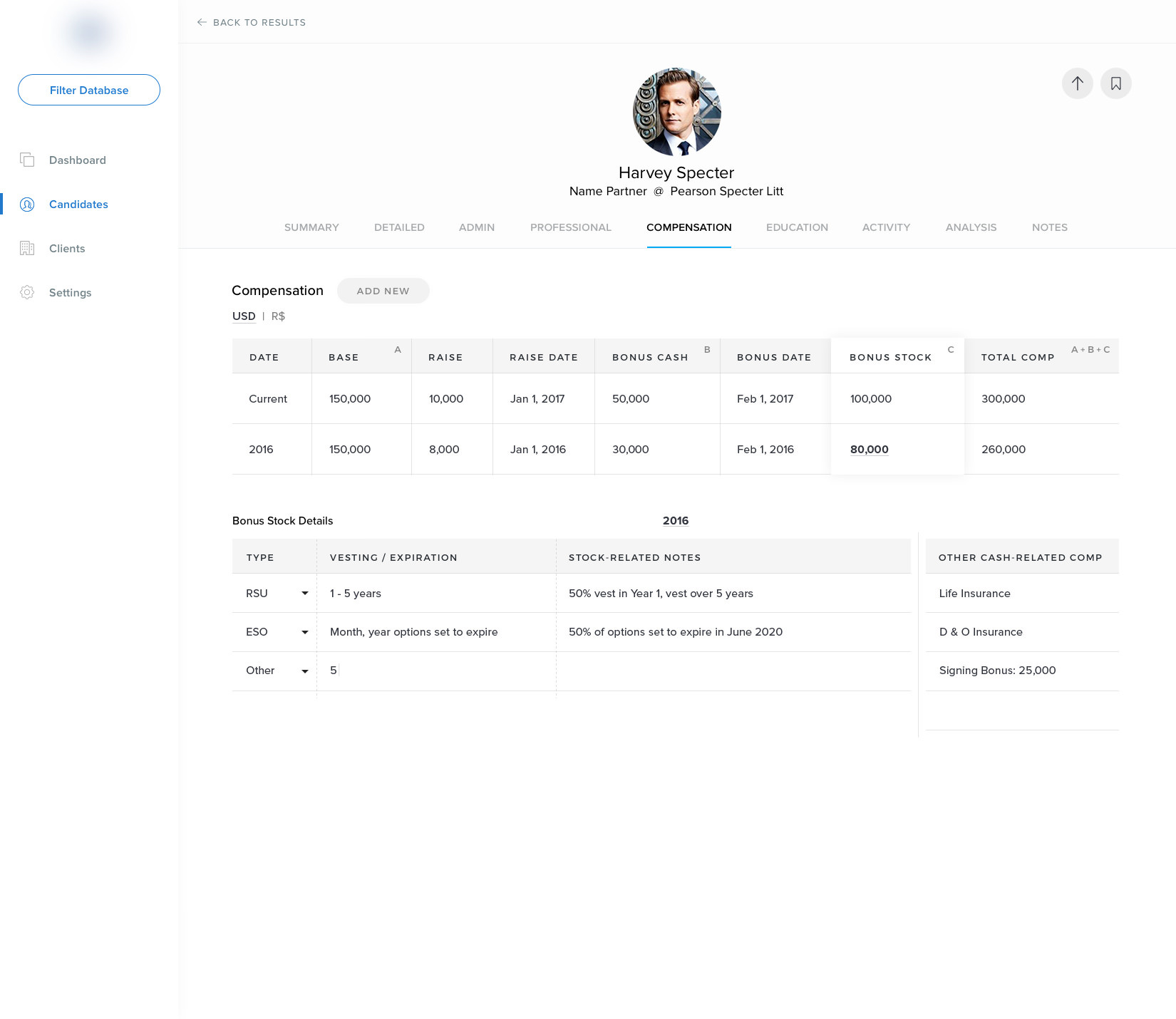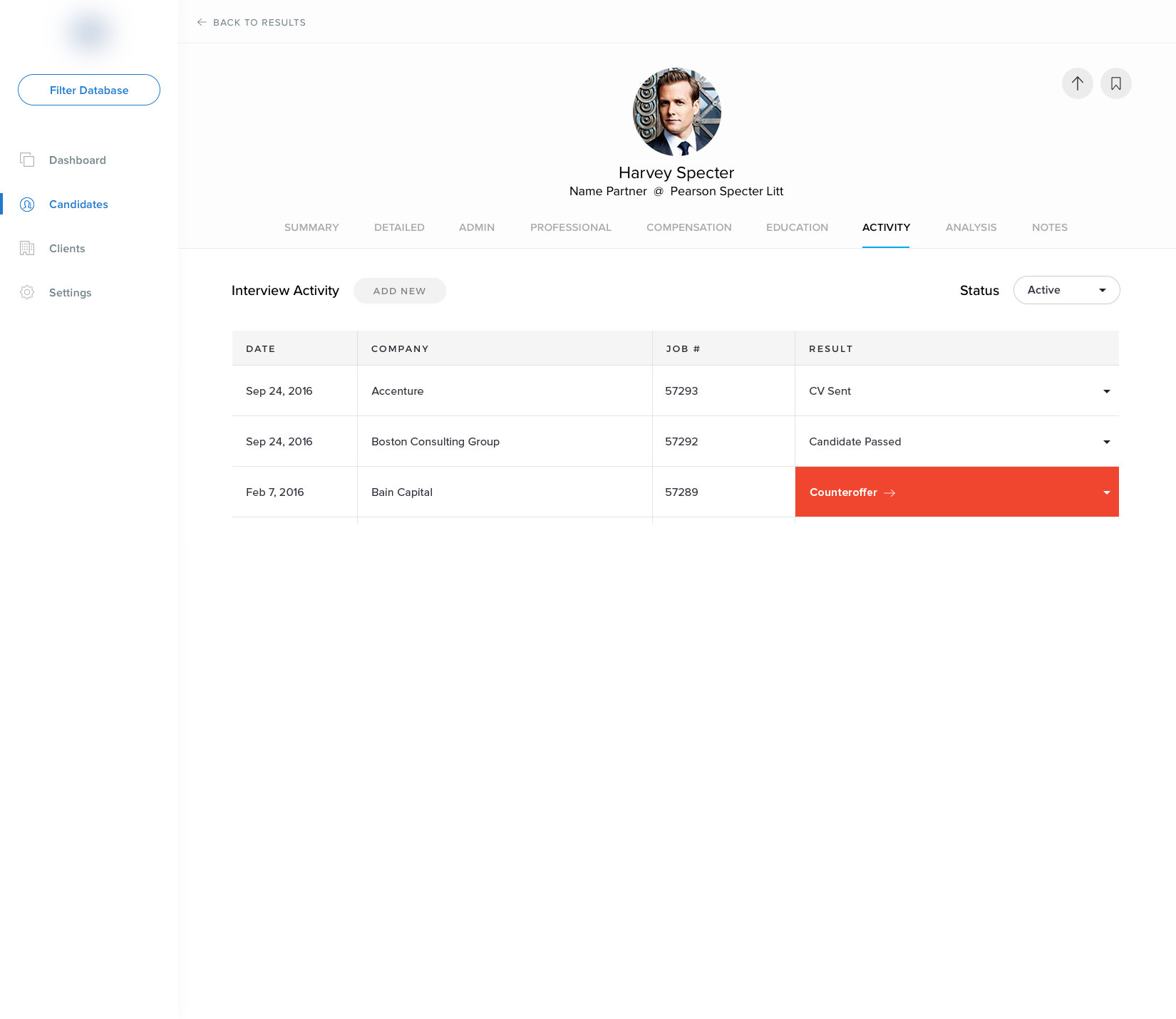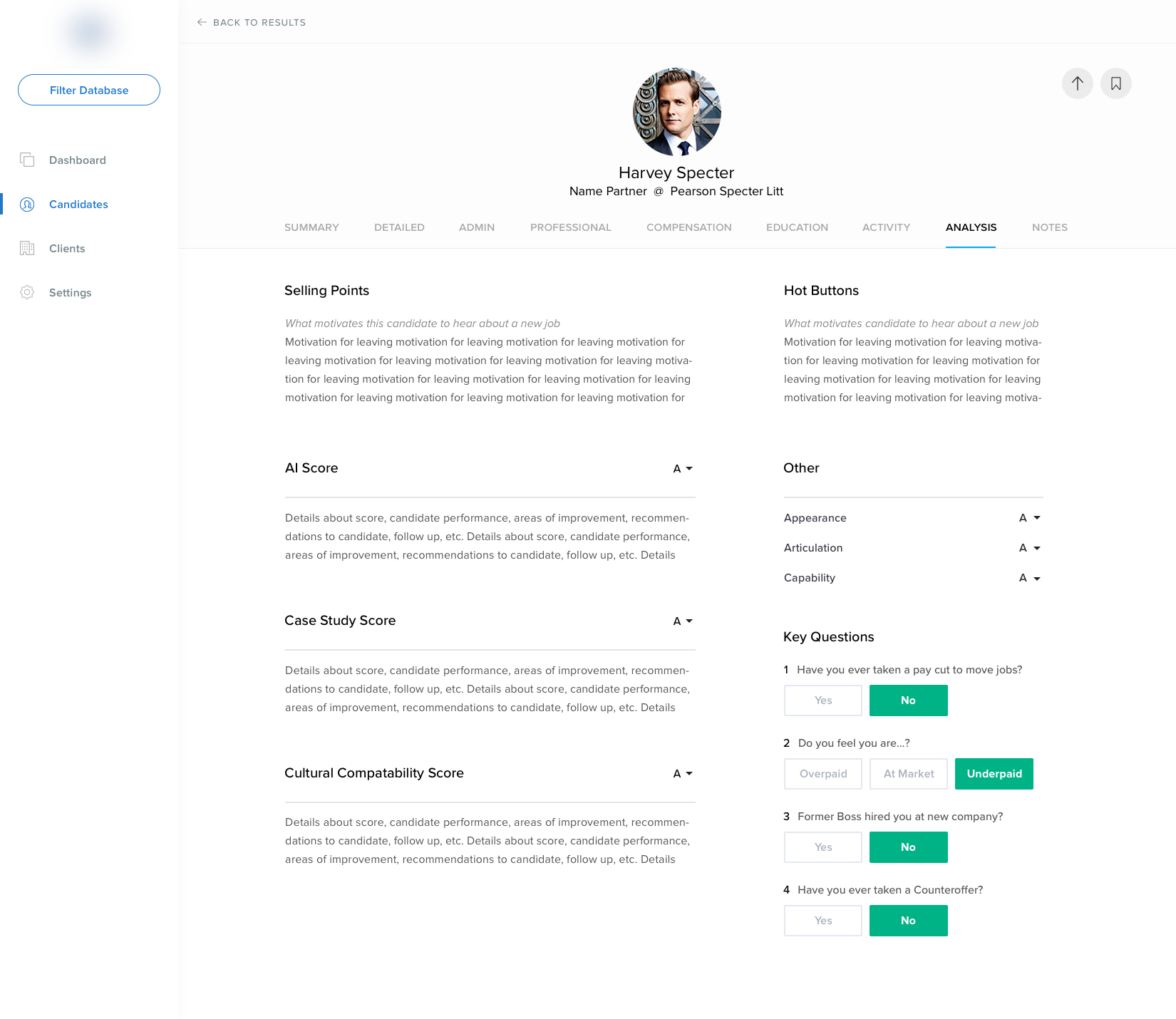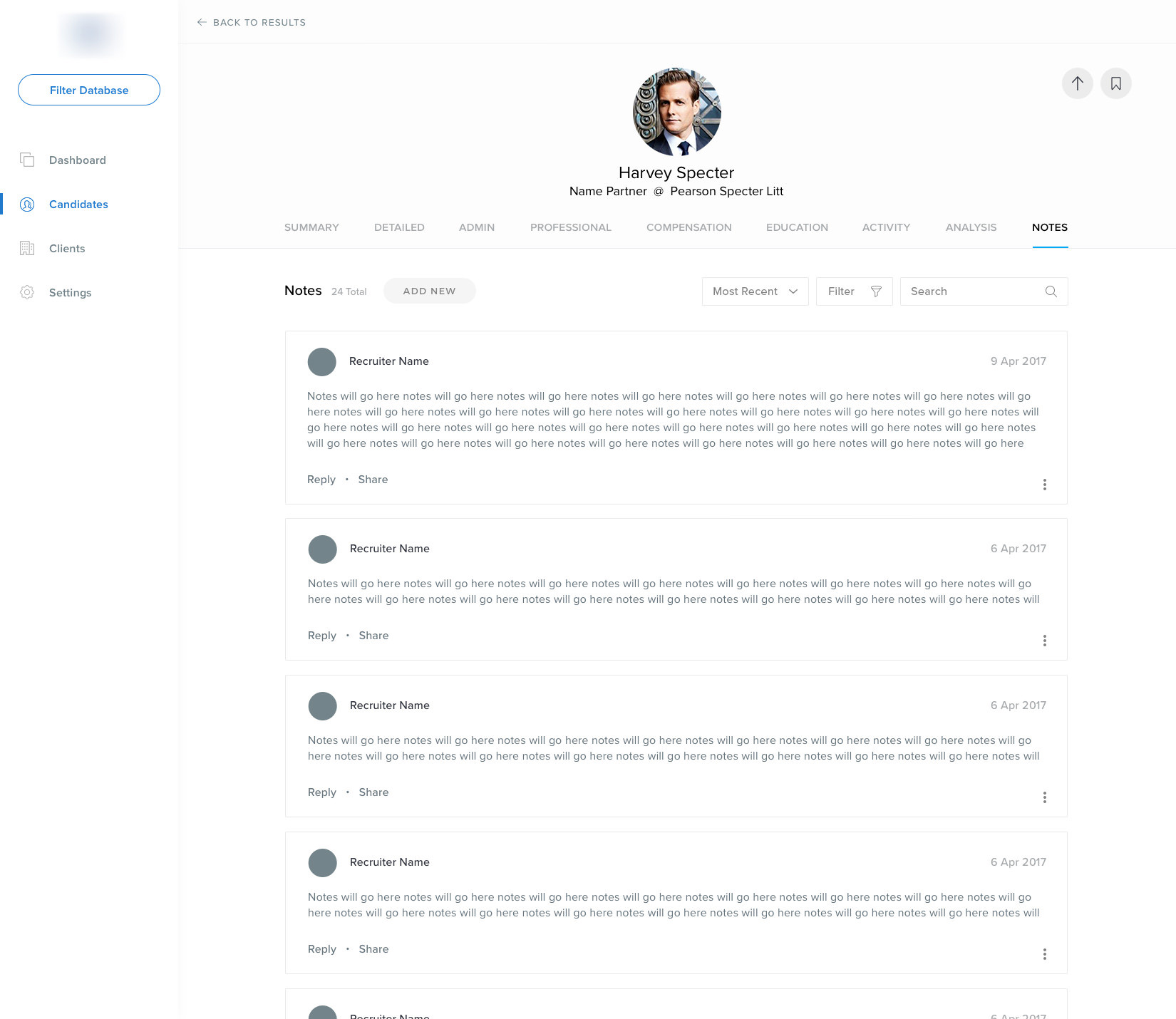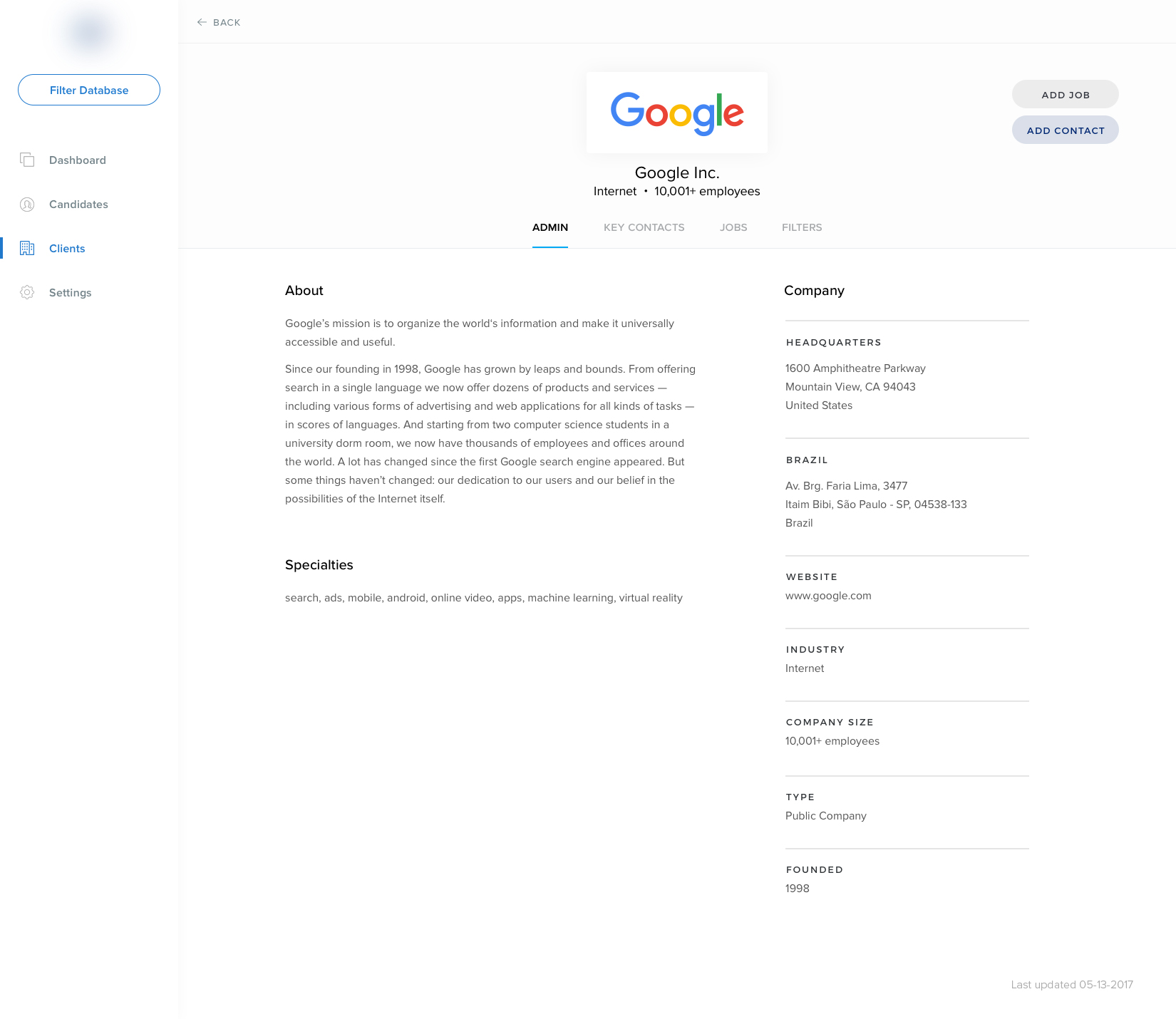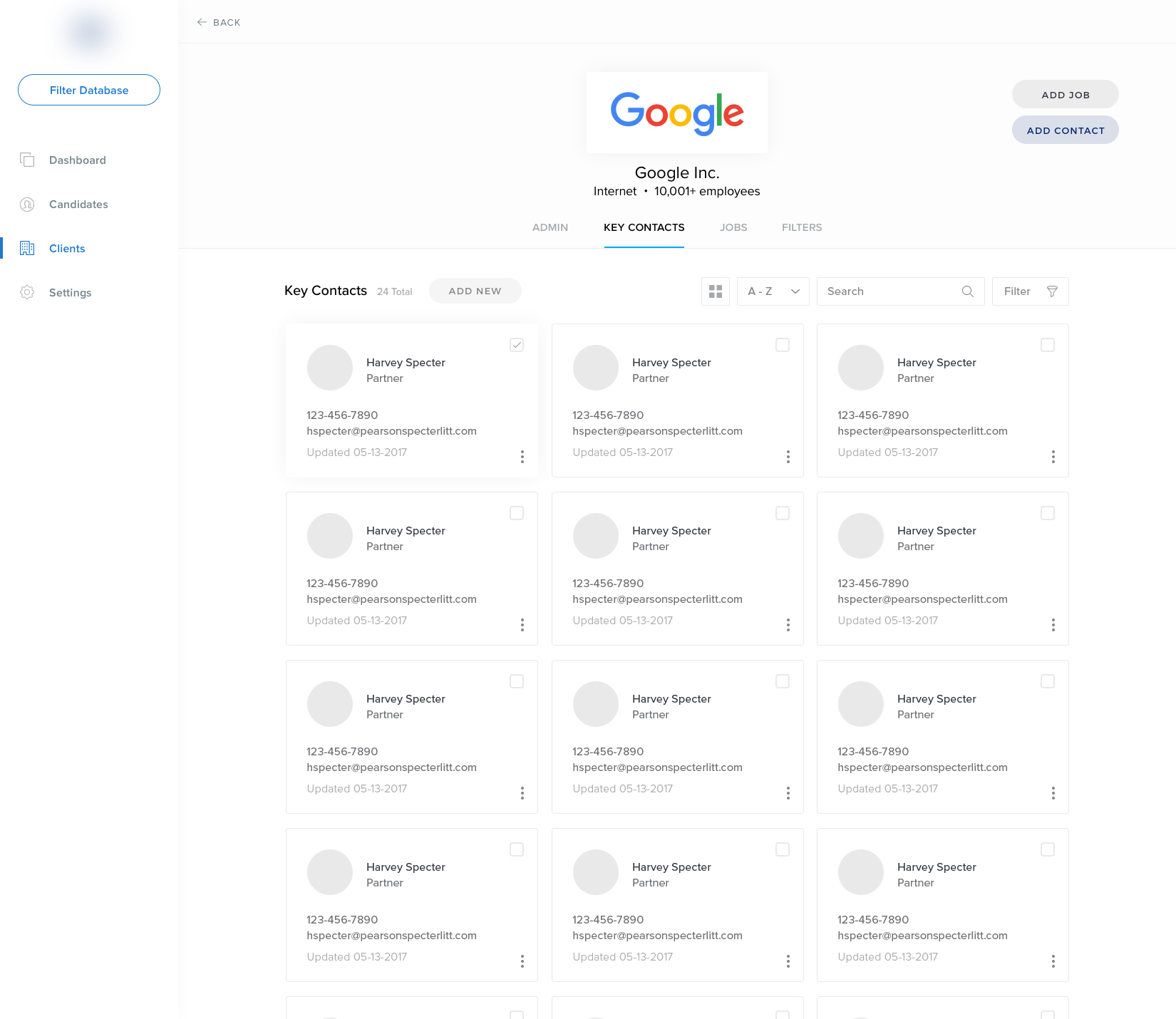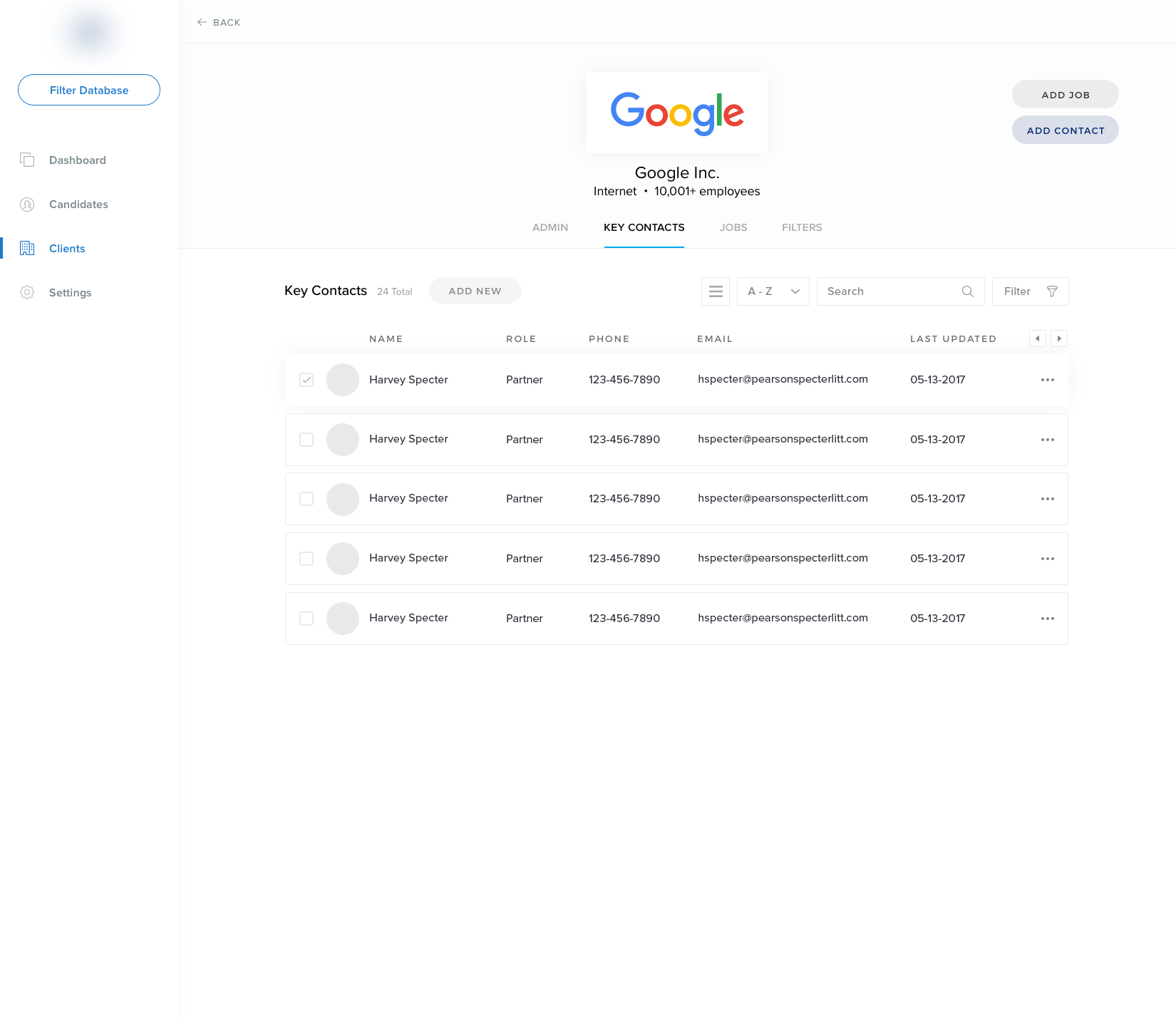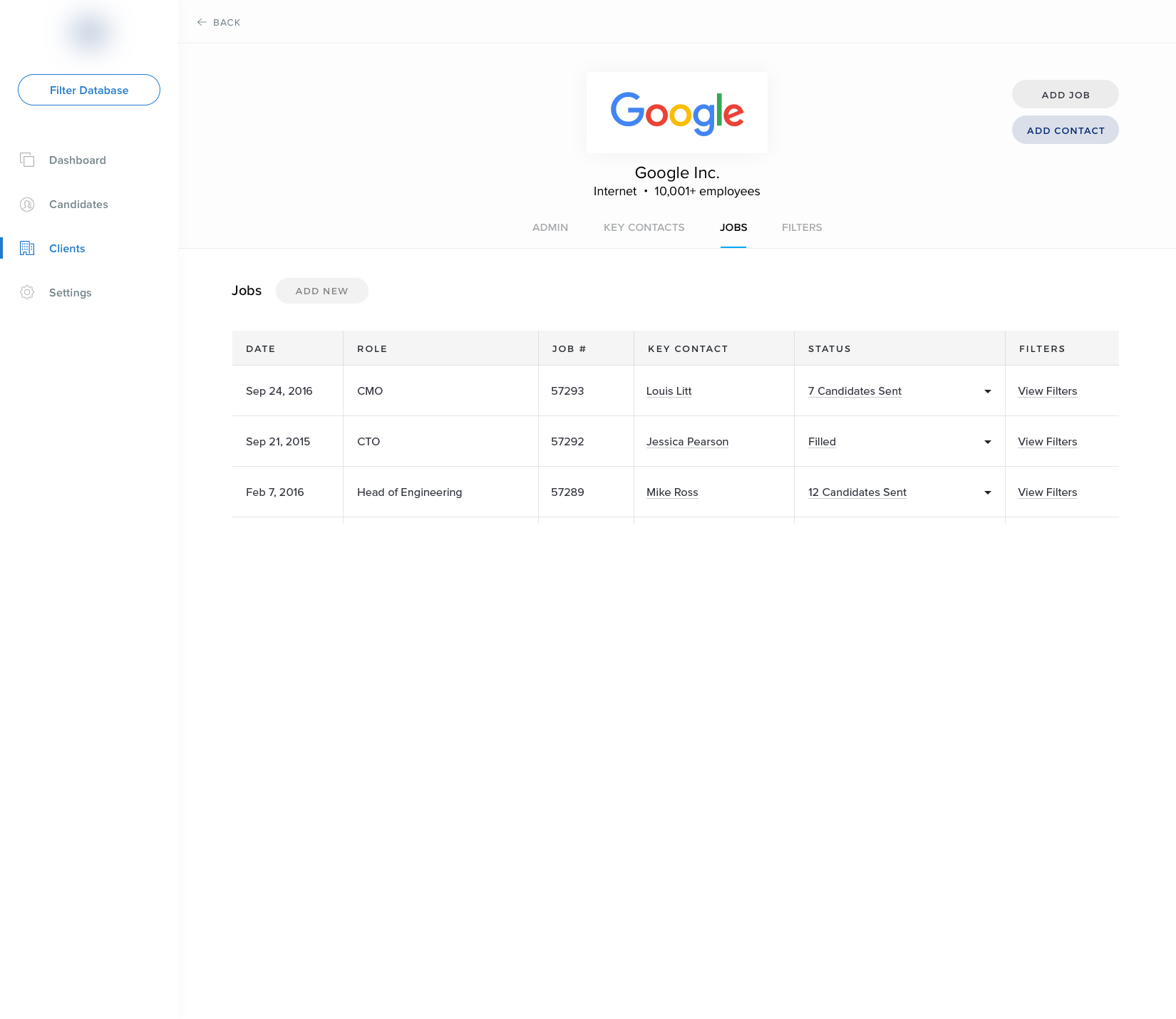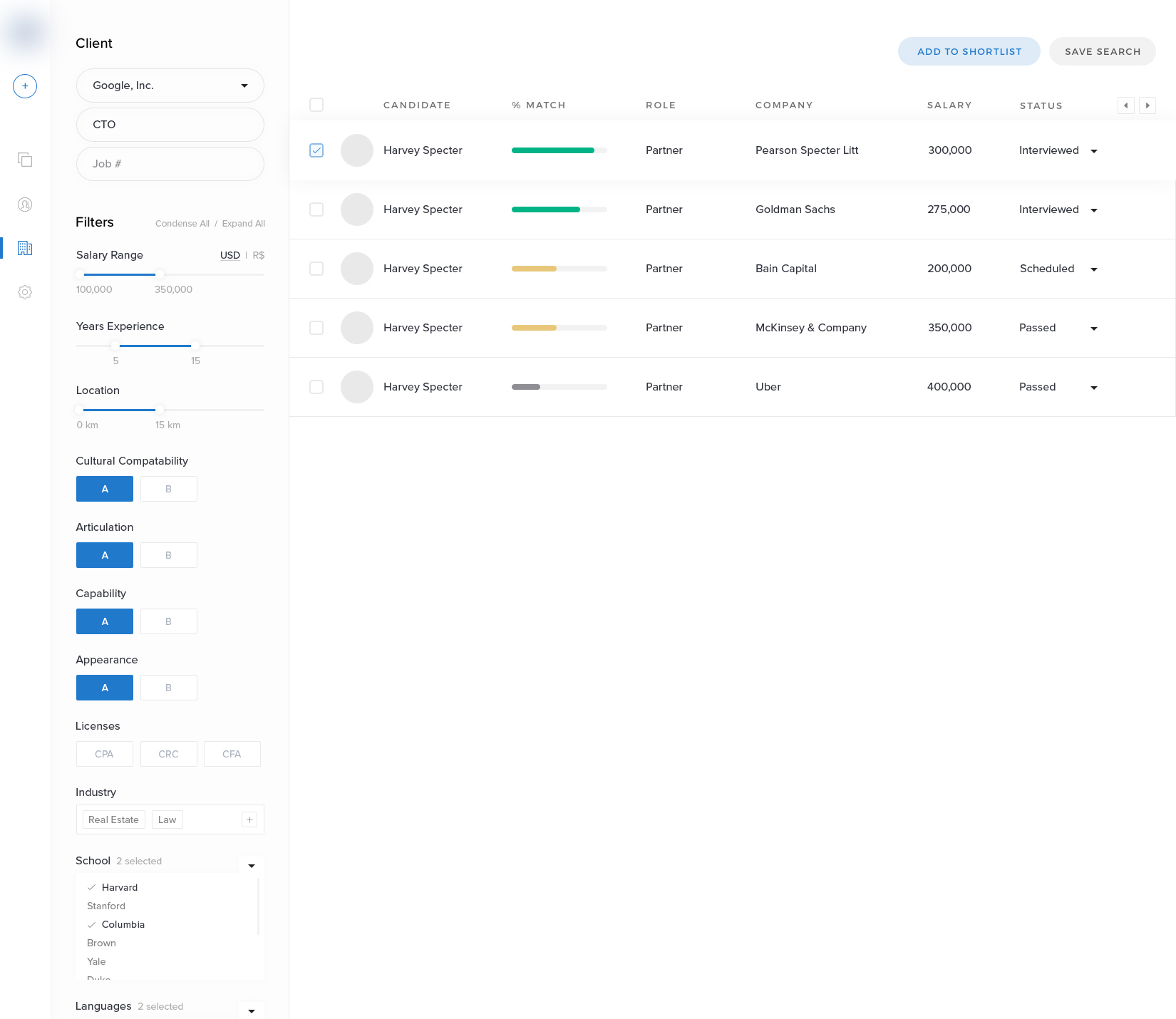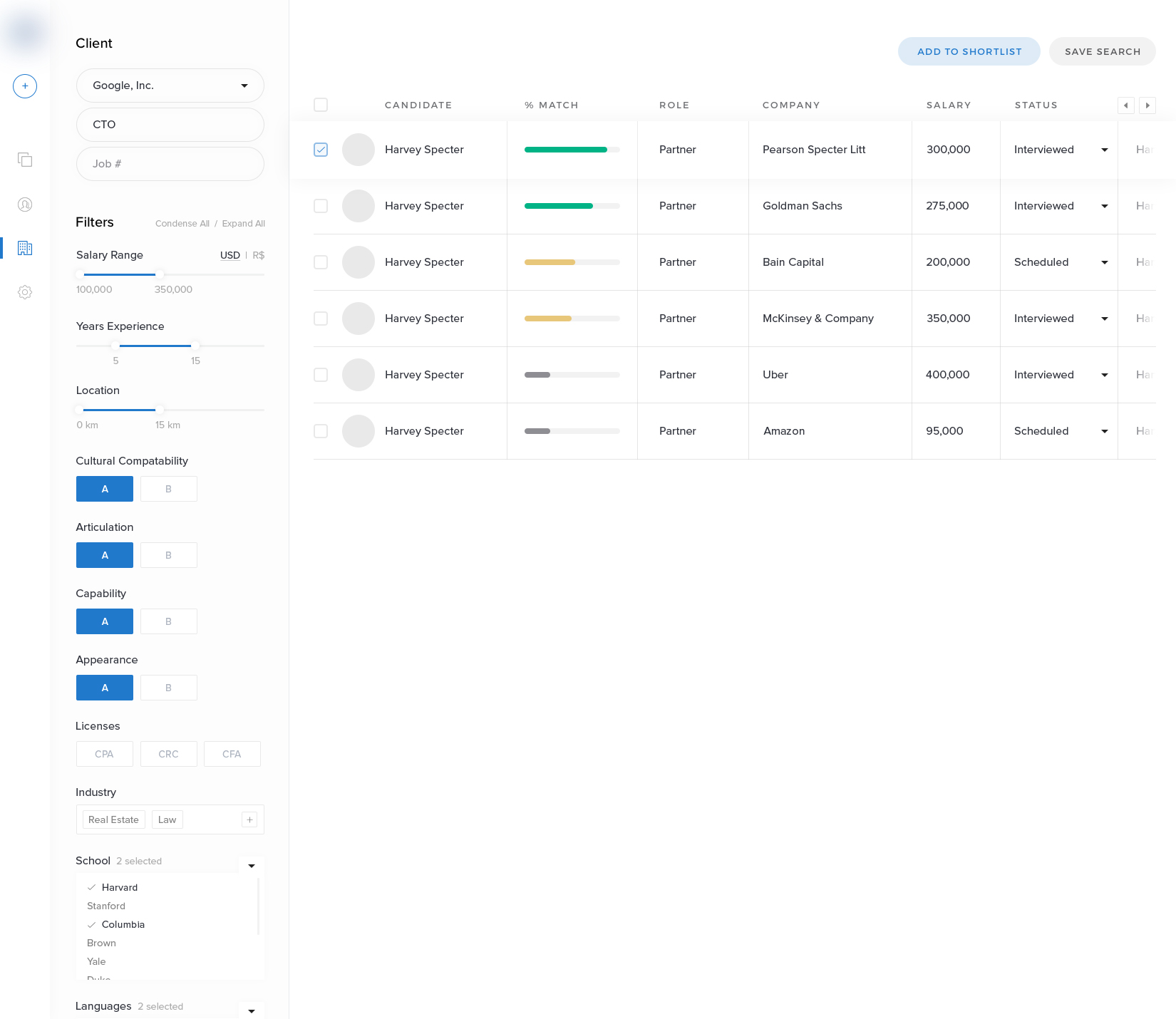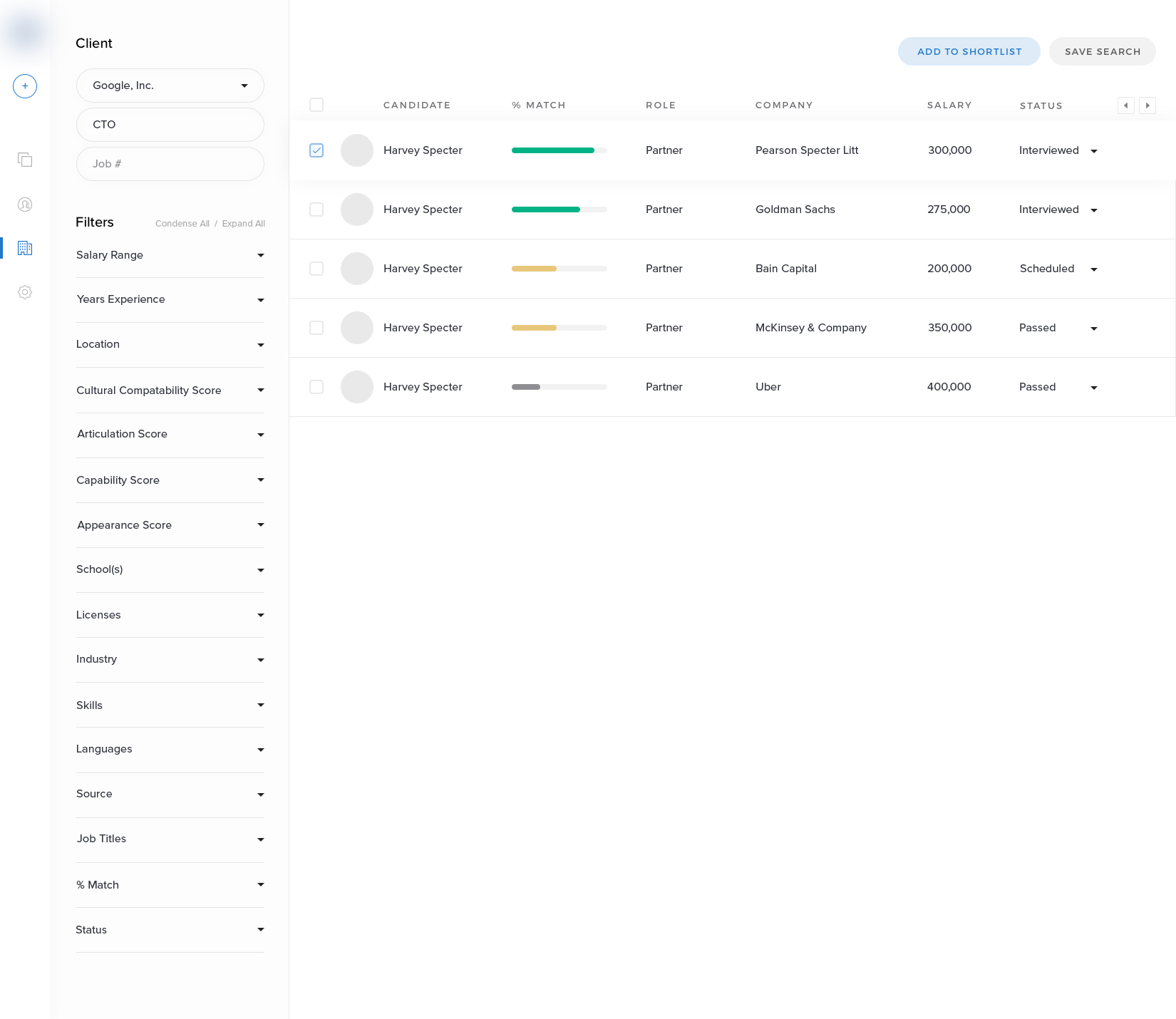 Final Thoughts
When we got to this stage, my client was in the process of making some personal and internal changes, so we hit pause on the project. The work you see above is by no means complete.
Several of the questions above, of course, remain:
Visual language — How will the design scale as more screens are built out? Where does it break and how do we adjust?
Editing and adding content — How will a user edit and add content on each screen? Will each element have its own edit button or should there be a master button that puts the whole screen in edit mode?
Functionality — What else is missing? What questions haven't I asked? What scenarios haven't I thought of?
Product design is an iterative process that can always be improved (the design and the process itself). The best way to operate is to keep asking questions, keep exploring new ways of doing things and thinking about things, and never assume you have all the answers — research of all kinds is paramount. That and having the empathy and insight to craft a compelling story, and the strategic, big picture mindset to carry it out creatively.
Thank you for your time!